Start Free Trial
Create & Share Beautiful Itineraries
It's quick and easy to jump in: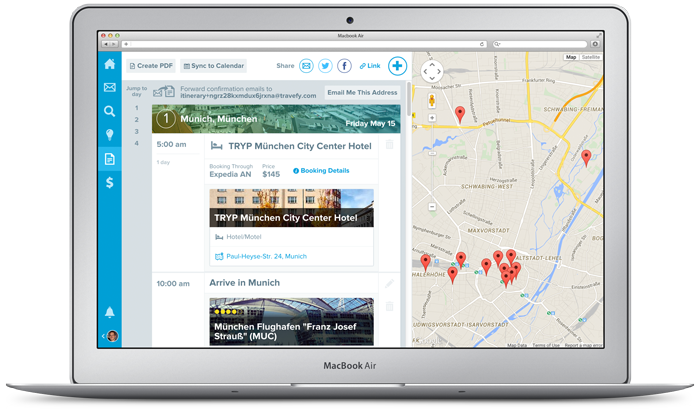 Create Your Itinerary
Create & Share Beautiful Itineraries
It's free and easy to jump in:
Create the perfect itinerary.
---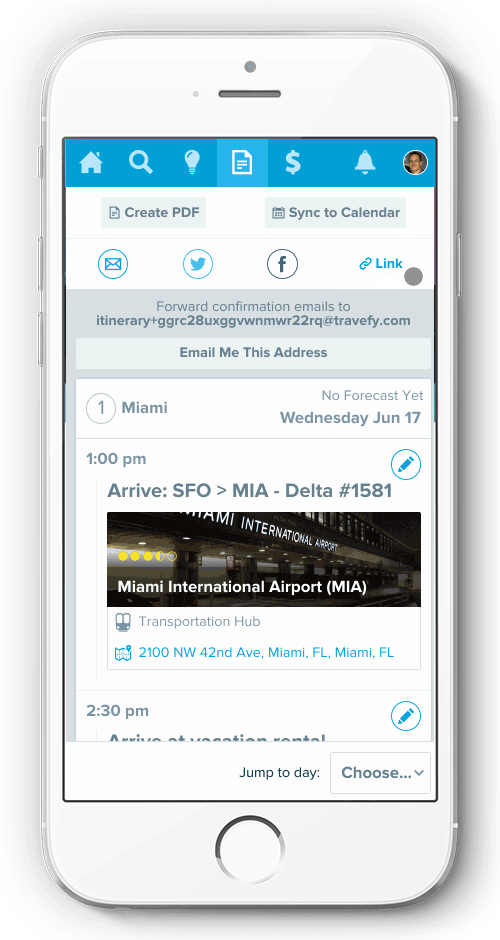 Add Places
Know what you're doing? Just type in the name of the place to add.
---
Add Saved Trip Ideas
Discover over 8 million trip ideas around the world to save and discuss with your group.
---
Google Maps
Travefy plots your itinerary into Google Maps so you can see where you're going and what's nearby.
---
Import Booking Confirmations
Forward your booking confirmation emails to import it automatically to your itinerary.
---
Add Notes & Links
It's simple to add notes, instructions, web links, details, Google doc links and more.
Share your itinerary.
---
Shareable Itinerary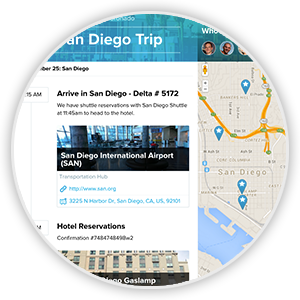 Share your itinerary with anyone without cramping your style.
Trip Invitation Page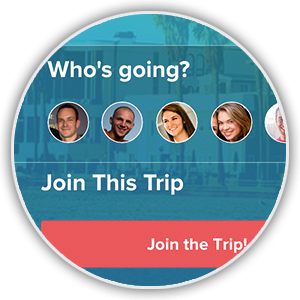 Have a large group and want them to RSVP on their own? This page makes it a snap.
Invite via Email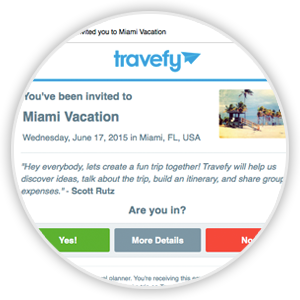 Invite others to collaborate on your trip plans.

PDF
Export a clean, organized PDF in seconds.

Social Media
Get your #HumbleBrag on and post it.

Calendar Sync
Sync your itinerary to your calendar app of choice.
It's easy, try it out:
---
Travefy's online and mobile itinerary creator makes trip planning easy and fun. Travefy is the perfect online vacation planner and trip planner organizer for travel professionals. Travefy makes it simple to collaborate & discuss trip details, find fun things to do on your trip, and build a detailed travel itinerary app. Travefy is an easy to use online trip planning site and trip itinerary maker.
Don't worry about an itinerary template or how to make an itinerary, use Travefy's itinerary builder to create your travel itinerary. Build your itinerary fast with email parsing: forward your booking confirmation emails to import reservation details automatically to your itinerary. Discover fun trip ideas and add them to your itinerary. Build a fun trip by browsing trip ideas with over 7 million restaurants, activities, landmarks and entertainment venues.